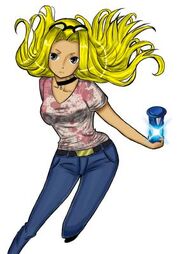 Chrissy Parker
is a 15 year old girl.She wears the goggles on her head when she's on her Monsuno in the air. She has a Monsuno named
LionHeart .
LionHeart is a blue lion with Bat wings, backlegs of a goat and a tail of a snake.
Apperance
Edit
Chrissy has blond hair and black eyes; she wears goggles when flying on Lionheart's back. She wears blue jeans, Pink and White spotted pattern short sleeve shirt and has a black choker around her neck. She also wears a short black jacket and Brown/black boots.
Personality Edit
Chrissy is described as a ditzy and stubborn girl; she often gets aggravated when Lionheart does not listen to her commands in battle. She also has a fear of dark places and doesn't want to admit it to anyone, often denying it. She talks with a Southern American accent since she was raised on a ranch but at the same time it can confuse others about what she is saying. She is caring to her friends and Monsuno.
Chrissy had a happy normal childhood. She was born and raised with her father and mother on a ranch most of her life, because of that she loves animals. When she was a child she dreams of becoming a veterinarian. She did not have as many friends when she was younger because at the time she was shy, she did however made friends only with the ranch animals.
Relationships
Edit
Chase -Good friends and respects him as the leader of the team. She secretly has a crush on him and is too stubborn to admit it. 
Jinja -
Bren -
Beyal -Good friends.
Dax - Often gets into arguements with him and at first she didnt trust him.
"What's a Monsuno?"
"LionHeart, Launch!"
"Return!"
"This really makes my head spinny"
"Ooh Shiny!"
"If you can take this bull by the horns you better be ready for a ride, Launch Fang!"