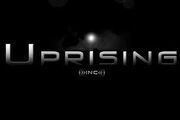 Uprising Inc. is a company owned by Trent and Kevin Summers' Dad. It was created because of the large amount of money Monsuno were being sold for. They create Silver and Gold cores. The company cores are still in the Proto-type stage and still have a few bugs to work out. They also make goods like computers.
Monsuno Made
[
]
Pheburn: Belongs to Trent. Given to him by his dad.
Steel Swarm: Belongs to Kevin. Given to him by his dad.
Moonshine: Belongs to Catera Suno. Given to her by Trent after finding it's monsuno essence